Well, hello there! Sorry about the lack of activity as of recent, I've just moved into my new home with my girlfriend...and bought a puppy...DUN DUN DUN! Yes, Ronnie the puppy has arrived and is here to stay,. Between games of 'sit' and 'stay', the lack of internet in the new place hasn't been too much of a problem.
But, the puppy is settling, and Sky have finally managed to flick the little 'ON' switch.
So, without further ado, I'd like to introduce another UK based fantasy author for your reading pleasure. I'll be reviewing his novels imminently, but I thought it'd be a fantastic opportunity to learn a little more about the man pushing the pencil, first.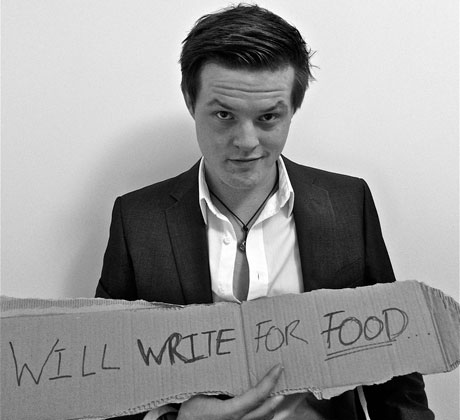 Ben Galley.
The Emaneska Series was born out of a frustration. A frustration in three parts.
The first was with the music industry. A student of the prestigious Academy of Contemporary Music in Guildford UK, I spent two years studying bass guitar, all the while keeping my head thoroughly buried in an industry that was going through a period of radical and digital change. Much like the book industry today, record shops were dying, labels were merging, the rise of the indie was afoot. The only thing that hadn't changed was how tough it was to make a living. At the time, and living in such a over-saturated scene, it was impossible. The "big-time" was still dependent on the major labels. It was then that my studies began to slip, my dedication wane. It was then that I restarted a hobby I hadn't enjoyed for half a decade. Writing.
The second frustration came from work. Or, more accurately, unavoidable slavery. Being a music student, which, in the ranks of "poorest students alive" rank very highly indeed, I had a job to pay my tuition, rent, and general bills. My jobs were far from glamorous, but then I never expected them to be. They were a means to an end. Bar lackey. Kitchen porters. Cook. Waiter. I hopped from bar to bar to pub to restaurant, and with each one came the slow dread that my music career wiuld never take off, and I would be stuck in that cycle for ever more. The lowest point was working in a kiosk in Guildford Station throughout the winter. I sold hot pasties to commuters and used to keep the oven door open to keep me warm. It was that low point that was both the fiercest time of frustration, and yet the biggest spur to my goal.
The third frustration was the birth of my book, and that moment was the origin, the launchpad of where I am today. It was a simple thing, really. A moment's spark on inception, but these sorts of things usually are. I was watching BBC's pilot of Merlin, which, for nobody that has seen nor heard of it, is a television drama firmly entrenched in the pre-watershed programming schedule of BBC's Saturday night. It's a harmless program. It's meant to be fun and for all ages. I didn't like that. . As the pilot progressed, I got more and more irritated. It wasn't fierce enough. I'd been reading the likes of American Gods and Joe Abercrombie and George RR Martin. I was expecting something darker and grittier from this Merlin. In a moment of annoyance, I decided it needed to be different. Emaneska was born in the grabbing of a notepad, and the scribbling of four simple things. Lord of The Rings. Sin City. Emaneska. And Farden. That was the birth of my career as a fantasy author. I remember it like yesterday.
It was then that these three frustrations culminated into a perfect mix. My disillusionment with my future in music drove me to read and write. My dead-end jobs drove me to seek a way out. It was during my time in the station kiosk that I wrote most of The Written, in between customers and on my mobile phone. Lastly, the strong passion behind a powerful idea. That moment of inspiration.
Almost four years on, on the cusp of four books later, Emaneska is going from strength to strength. Thoroughly fitting the original scribbled brief of "Lord of The Rings meets Sin City," the Series has had a great response from critics all over the world.
The Written was the first book, released late 2010, and was the fast-paced opener for the Series and its epic plot. It introduced us to its morally ambiguous protagonist – dutiful, powerful soldier, lone wolf, a troubled drug addict of a mage Farden. Whisked into a net of politics and dark plans, Farden soon finds his own life and actions entwined with the survival of his people and the whole of Emaneska.
Pale Kings was released in February of 2012. A bigger and darker book, it follows the ongoing trials and tribulations or our favourite mage. Farden goes to dig up his past in the deserts of a land called Paraia, while the others, characters from The Written such as Durnus, Farden's vampyre superior, Modren, a Written mage just like Farden, and Towerdawn, Old Dragon and lord of the Sirens, must do battle with a gathering storm of war and dark revelations for all. It isn't just Farden's fight any more, and the stakes are higher than ever.
Due for release in Spring/Summer 2013 is the two-part finale of the Series – Dead Stars Part 1 and 2. Dead Stars will bring the epic conclusion to the Series crashing down. There are already teasers at
www.bengalley.com
, and the covers are due for release by Christmas. Follow the progress at Ben's website, or by Facebook and Twitter.