To many a fantasy fan, myself included, the David Gemmell Legend Awards is like the Oscars...but better.
Why?
1) Because us - you, me and I - we get to vote, to have our say. I could launch into an Obama-style rhetoric here, but I'm not here to flood the polling stations to change the WORLD. But if you do vote for someone in the Gemmell awards, you will change THEIR WORLD.
2) Because, arguably, authors are unsung heroes in their own rights. Sure you might not see Mark Lawrence slinging abuse at paparazzi (though I'm sure Jorg would do that for him), or Helen Lowe arm-in-arm with Robert Patterson on the red carpet, earning her the envy of teenage girls the world-over, but authors do deserve a nod for their achievements.
This evening, at the Nineworlds Geekfest event, the shortlist candidates for all categories in the David Gemmell Awards were announced. The longlists have been whittled down to the publicly-voted few. Both the Legend and Morningstar categories have 5 hopefuls, whilst the Ravenheart has 6.
On 'Written With a Sword' I've been following the Morningstar category, because to me at least, it's the who's who in rising fantasy authors...the next big guns as it were.
So, it gives me great pleasure to name the short list candidates for the 2013 Morningstar award: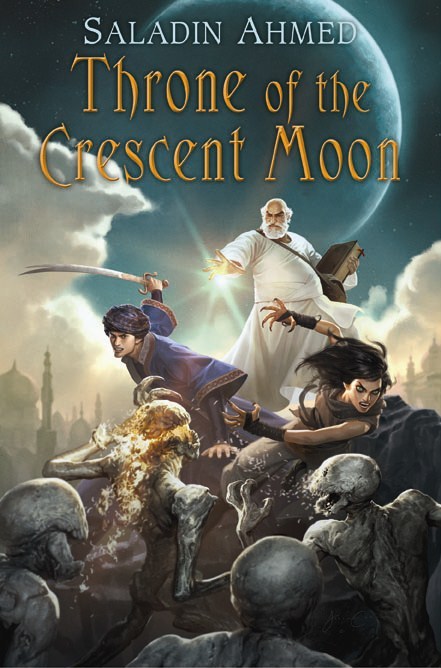 Saladin Ahmed - Throne of the Crescent Moon.
Miles Cameron - The Red Knight.
John Gwynne - Malice.
Aidan Harte - Irenicon.
Jay Kristoff - Stormdancer.
In previous years (and this information was taken from the DGLA site) longlist voting closed in Easter, followed by shortlist voting up until a predesignated date. The awards were then announced and presented at the DGLA event.
This year, the award ceremony will be at the World Fantasy Convention on 31st October.
Be sure to vote for your favourite authors (and books!) in all of the categories when the second round goes live!